Sidley Austin partner, former federal prosecutor David Anderson tapped as new U.S. Attorney
If confirmed by the U.S. Senate, David Anderson will replace acting U.S. Attorney David Tse for the Northern District of California, and may be called upon to apply federal policies often deeply unpopular in the region.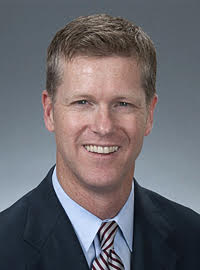 San Francisco white collar criminal defense attorney David Anderson, 55, partner at Sidley Austin LLP, has been tapped to be nominated as U.S. Attorney for the Northern District of California. As the chief federal prosecutor for the region, he will oversee 135 federal lawyers in civil and criminal U.S. government cases.
If confirmed, his appointment comes after about eight months without an appointed leader in the Northern District position, seen as at least partly related to federal enforcement of policies at odds culturally with state law and regional support.
Described by colleagues as a "great choice" and "a talented big-case trial attorney," Anderson was long rumored as a candidate for the role. In 2007, The San Jose Mercury News reported that Anderson was one of the top picks being considered for the job after the Bush administration ousted U.S. Attorney Kevin Ryan.
"I am honored and grateful to have received this recognition. If officially nominated and confirmed, I would love to re-enter government service and lead the team of professionals in the U.S. Attorney's office," Anderson said in a statement provided by Sidney Austin.
Anderson's background
Anderson graduated with distinction from San Jose State University with a B.S. in Accounting in 1985. He received his J.D., also with honors, from Stanford Law School in 1990, where served as president of the Federalist Society.
From 1991 to 1992, he clerked under former Supreme Court Justice Anthony Kennedy. He also served as law clerk to Clifford Wallace of the Ninth Circuit U.S. Court of Appeals and George H. Aldrich of the Iran-United States Claims Tribunal in The Hague, Netherlands.
In his early career, Anderson worked for Pillsbury Winthrop predecessor Pillsbury, Madison, Sutro and at Shearman & Sterling, according to a press release. From 1998 to 2002, he served as Assistant U.S. Attorney specializing in white collar crime.
In 2002, he rejoined Pillsbury Winthrop, where he served as San Francisco office managing partner and commercial litigator. In this position, he defended corporate executives in stock options cases and oversaw the firm's white-collar legal practice.
He then returned to the Department of Justice in 2008 as second-in-command of the San Francisco office as First Assistant U.S. attorney under U.S. Attorney Joseph Russoniello until 2010 when he joined Sidley Austin.
At Sidley, Anderson defended Facebook and Genentech, and represented AT&T for its role in government eavesdropping. He also led the firm in representing Wells Fargo in its recent sham accounts scandal.
Anderson's key prosecutions
As a federal prosecutor, Anderson won the following notable cases:
In 2009, he prosecuted Charles McCall, former chairman of San Francisco-based prescription drug distributor McKesson, in an $8 billion securities fraud case involving revenue inflation. McCall was convicted of four counts of securities fraud and one count of circumventing internal account controls, resulting in a 10-year prison sentence and $1 million fine. It was McCall's second trial, following his 2003 indictment and a 2006 mistrial. The day McKesson announced it had detected the fraud in 1999, its stock dropped 47 percent in one day, wiping out an estimated $8 blllion in shareholder value.
In 2002, Anderson prosecuted executives of San Francisco email technology company Critical Path Inc. for securities fraud after they exaggerated the company's revenues by more than $10 million. Three executives, including company president David Thatcher, served prison terms and in 2005, the stock was delisted by Nasdaq.
In 2001, Anderson won a conviction against West Coast cocaine kingpin Kevin Lee Davis of Walnut Creek, California. Davis received a life prison sentence for his role in supervising the distribution of up to 50 kilos of cocaine a week in the East Bay and in Indianapolis.
A delayed appointment in a divisive time
Traditionally, incoming presidents choose U.S. Attorneys seen as aligning with their political interests, and a state's senators have a hand in the decision. But California's Democratic senators have clashed with the Republican White House. Across the nation, U.S. Attorney positions have remained open longer than usual — more than 18 months into the new administration, about one-third of U.S. districts had no nominee in place. Democrats have faulted the administration for the slow-down, claiming Republicans are nominating politically loyal but unqualified judges, while Republicans have been quick to blame Democrats for the sluggish pace of Senate confirmations.
Former U.S. Attorney Melinda Haag, who served in the role from 2010 to 2016, faced criticism for cracking down on medical marijuana dispensaries in the region, where they are legal under state law. After Haag's four-year term expired, Brian Stretch was appointed by then-President Obama, but left the post abruptly in January of this year on the same day Attorney General Jeff Sessions announced a major change to federal cannabis policy, and days after Proposition 64 went into effect in the state, allowing for recreational use of the drug. Sessions named Tse as the region's acting director for 120 days, but the White House did not name a successor for an additional three months.
As The Recorder describes, upon his confirmation Anderson will become "the face of federal law enforcement in a region where the president's signature immigration policies are politically unpopular."
District legal minds praise Anderson
Anderson's proposed nomination received praise from regional legal luminaries.
"He's smart. He's accomplished. He's got great judgment," Haag told The Recorder. She added that his biggest challenge will "navigating the divide" between Washington and the local community.
In a statement to The Recorder, Sharon Flanagan, managing partner of Sidley's San Francisco office and a member of its executive committee, described Anderson as "a highly respected, valued partner and friend. If officially nominated and confirmed, I know that the U.S. Attorney's Office will thrive under his leadership."
Tse echoed her praises in a statement, saying, "I have known Dave Anderson for almost three decades and I am certain he will be an outstanding U.S. attorney. I am honored to continue in the role of U.S. attorney until he is confirmed and I look forward to a smooth transition to his leadership."
A total of 93 U.S. Attorneys service jurisdictions across the country. They're appointed by the President for a four-year term, subject to confirmation by the Senate, and report to the Attorney General, who heads the Department of Justice. The Northern District of California encompasses the Bay Area and coastal Northern California to the Oregon border. The office is based in San Francisco with branches in San Jose and Oakland.