Something was off with Everything-PR
A public relations executive wanted to know who was defaming his agency using a phony website. We figured it out.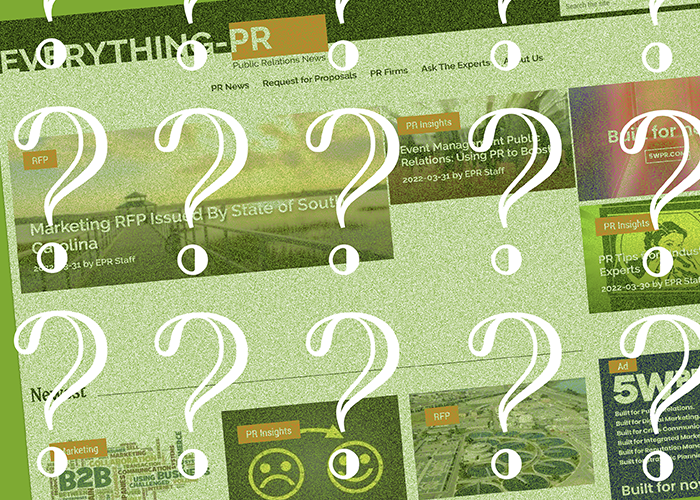 For years, PR industry news site Everything-PR, founded by a husband-and-wife team in 2009, dashed off reviews of prominent public relations firms. Then in 2014, unfamiliar bylines began popping up to bash certain firms regularly, while reserving consistently glowing recommendations for the New York City-based PR firm 5WPR, founded by Ronn Torossian.
Leadership of some of the maligned firms grew suspicious about the source of the coverage. Finally in 2018, one fed-up executive hired Waterfront Intelligence to get to the bottom of it. We uncovered the truth shortly thereafter. But the case was not widely publicized until last month's reveal in Crain's New York, which sent shockwaves through the industry and led to Torossian stepping down as CEO of his firm.
A global mystery solved
Working with an affiliate investigator in Europe, we found the contact information of the husband-and-wife team, who had sold the publication in 2014 to an anonymous party. This led to interviews in Germany and Greece that indicated the new owner was Torossian.
We were able to confirm our client's suspicions. But it took several more years of growing industry outrage until Crain's New York finally got Torossian's admission of ownership last month.
The site's original owners, Phil and Mihaela Lica Butler, told Crain's that they sold the site for $2,500 to Torossian in 2014 during financial difficulties. The couple now lives on the island of Crete. After the sale, they were upset to find that Torossian had replaced their names, along with the bylines of all articles on the site, with fake names. Phil Butler told Crain's, "We begged Ronn to put our names back, but he refused."
For the next eight years, under these imaginary bylines, Torossian regularly published criticisms of rival PR firms and strong praise for 5WPR. After multiple media outlets began to reveal Torossian's ownership of Everything-PR last December, the fake bylines were changed again to simply say, "By EPR staff."
When Torossian finally owned up to his role in Crain's, industry blowback was swift. Not only was he denounced as a "stain on the industry," he became a potential target for defamation suits and even regulatory action. On March 4, 2022, he resigned as CEO, citing a "lapse in judgment." But the move did little to quell his critics, who claim his firm continues to profit from the hit pieces.
Key takeaways for defamers everywhere
According to Waterfront's director of investigations, Bruce Gerstman, "The Everything-PR case shows how powerful people do what they do, no matter the industry niche. It also shows that even powerful people can't outsmart themselves."
The site's ownership had been concealed for years using a proxy domain. But according to Gerstman, it's not enough to stop a seasoned investigator from discovering the truth.
"Even though people think they're being really anonymous, when you work hard enough, you're going to find little patterns they haven't taken into consideration, ways they leave their info that they don't know about. They think they're above the little breadcrumb trails they're leaving behind, what's findable. But if one knows where to look and looks hard enough, they can be discovered – without a search warrant, without law enforcement."
Contact us for a confidential, free consultation. Email [email protected] or call 415-905-0462.