Megadeals ruled 2018, and most analysts see more of the same ahead—with some important caveats.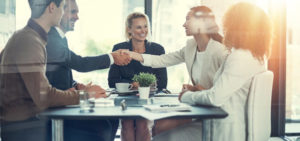 We've reviewed forecasts for 2019 M&A deal activity, and the outlook is generally positive. But as many reports point out, a deal is only as good as the due diligence behind it. According to Deloitte's 2019 Mergers & Acquisitions Trends Report, one quarter of deals that fail to meet expectations can be attributed to this factor alone.
Here's a quick debrief of projected M&A activity in the new year:
More deals than last year expected in 2019
Deloitte predicts sustained, strong deal activity in 2019 due to continued factors such as tax reform, a more relaxed U.S. regulatory climate, and growing cash reserves. More than 75% of firms polled expected to close more deals in 2019 than in 2018.
"Why don't some deals work? There is an increase in corporate respondents … who claim due diligence was inadequately performed (23 percent this year, up from 19 percent last year)."
Main reasons behind deals: acquiring tech, expanding customers, diversifying products
Strategic M&A drivers included acquiring technology, expanding customer bases in existing geographic markets, and expanding and diversifying products and services.
Due diligence is seen as essential
Sound due diligence is seen as a key element of a successful M&A transaction. Faulty due diligence is seen as the root cause of one out of every four deals that did not generate expected value—a significant rise from the previous year.
2018 was the year of the megadeal
PWC describes 2018 as exceptional, characterized by megadeals in almost every industrial sector and "a surge in megadeals valued at more than $5 billion."
Look for the mid-market to heat up
"Smaller and mid-sized firms are also looking to scale up," says the report, with emerging tech such as AI, blockchain and the Internet of Things driving cross-sector deals in the industrial sector, power and utilities, consumer goods and services, and media and telecom.
Bold investments despite headwinds
Headwinds are anticipated in the form of regulatory changes, an uncertain political landscape, and most importantly, indicators of an economic downturn. Nevertheless, PWC foresees an "unprecedented M&A cycle" and a future that is "increasingly competitive and disruptive." As long as access to capital remains high, companies will continue to make bold investments to compete on scale at record levels, as buyers see growth potential within their sectors.
New need: 'technology diligence'
The need for due diligence is even greater when it comes to new tech acquisitions. "The fundamentals of that diligence are still the same," says a PWC Deals partner, but companies also need to perform more sophisticated technology diligence: will it scale or become obsolete?
M&As highest on record in 2018
Despite global tensions, trade wars and volatile markets, 2018 was the highest year on record for domestic M&A activity, and the second-highest year for global M&A activity, according to Mergermarket, a company that tracks global M&A activity.
Liquidity, confidence will fuel an even bigger 2019
And 2019 is set to be even bigger across all sectors, especially for mid- and lower-mid-market companies, due to "significant liquidity that's on the sidelines," either on corporate balance sheets or raised by private equity. "Business confidence remains very high," says a SunTrust managing director.
Demographics will drive demand
According to the report, "About one-third of Baby Boomers expect to transition the ownership of their businesses within the next five years," with almost half saying they've considered purchase as a transition strategy. Most private U.S. companies are owned and led by Baby Boomers.
"The trend can't last forever"
The Street takes a contrarian view of 2019, citing Goldman Sachs analysts who point out less certainty due to recent market selloffs, "suggesting a modestly weaker M&A environment as we head into the end of the year."
Recession risks increase
Morgan Stanley economists say there's a 15% chance of recession in 2019, increasing to 30% by 2020. The Street argues this could mean less willingness to commit capital for new businesses.
As always: buyer beware
As your company's M&A activities unfold this year, remember that even if an opportunity checks all the boxes on paper, only a full due diligence investigation can uncover essential information that can make the difference between a deal that meets expectations and a deal that falls flat.